Dust-suppression Trucks
Fenghua® Multi functional dust suppression truck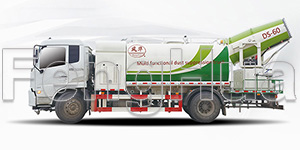 Dust-suppression trucks are special vehicles realizing suppression of dust pollution through spraying dust-suppression curing agent and other spraying solutions. They mainly serve the railways, roads and other places having frequent dust.
At present, multiple-functional dust-suppression trucks of Fenghua are mainly realized by adopting truck chassis manufactured by famous domestic truck manufacturers such as Sinotruk, Dongfeng, Qingte and Senyuan, and being equipped with mist cannon professionally manufactured by Fenghua.
The basic design of our fog cannon is a tube with an axial fan, set of mist jet nozzles, rotary frame that enables the oscillation from 0 to 320°, water filter unit, pump and control box.
Despite its impressive size, the dust fighter requires minimal maintenance; the simplest designs make sure the high dependability even under extreme working conditions,specifically for large-scale mining, coal operations and bulk material handling.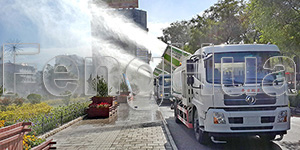 Adopts well known generator set with reliable quality and low consumption ,low maitenance costs.
The fan blade is added from 9 to 11 pcs to increase the air pressure, compared with the traditonal blower, these types is more powerful with longer throw and better penetrations. Adopts precision filter to ensure the purity of the solution, extend the using life of the spraying system.
Power supply optional (3 Phase, 380V or diesel generating set), can be fixed on concrete platform or mounted on the truck equipped with diesel generating set.
Improved visibility and air quality maintain a safer and more productive workplace.
Well adapted to vehicle ( need to confirm the dimension of carriage dimension.)
DS-60/80/100/120/150/200 Misting System/ Mist Cool Equipment
Scope Application of Dust Suppression Truck
Environmental protection, mining, coal yard, ports, docks, steel mill, and other large construction site, etc.
Landfills, public places, and the disinfection, deodorization, epidemic prevention in large area after natural disaster.